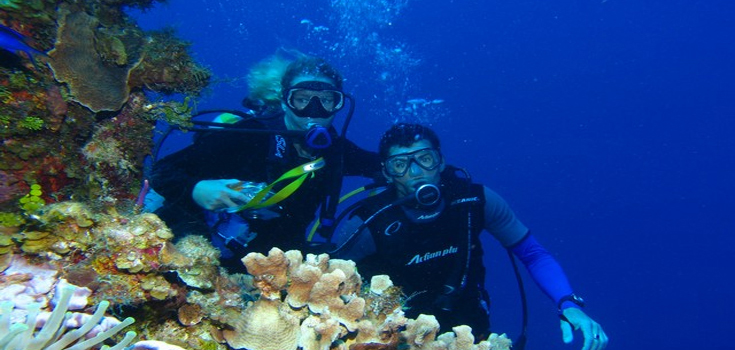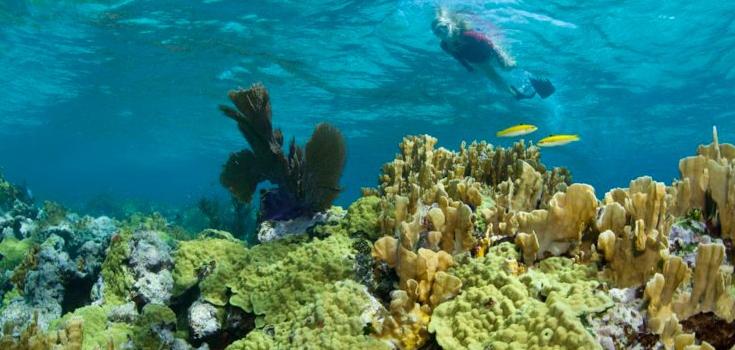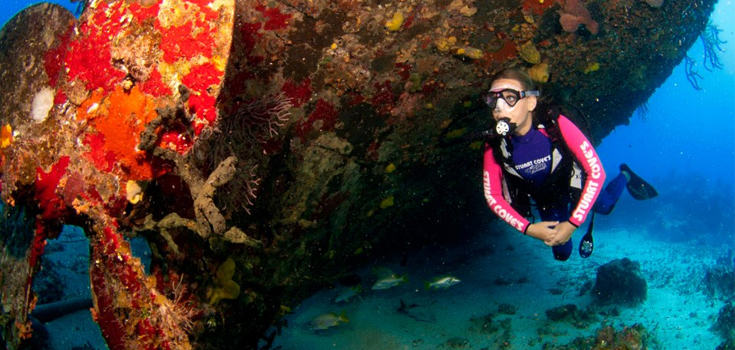 Guaranteed Low Price
No Booking Fees
Hassle Free Reservations
Limited Spaces Available! For reservations call (800) 688-5871. Spaces are extremely limited this time of year so book early to ensure the date you want.
TOUR SUMMARY
Like in the morning dive, our Two Tank Afternoon Dives go to two diving locations out on the clear waters off the coast of Nassau. Here you will first go to one of the fascinating underwater wall locations. These dive sites usually begin at about 40 feet deep, though you will definitely find some that are a little deeper. The diving is great for both beginner and expert divers, as you get to choose just how deep you want to go during your dive. You can choose to stay at the shallower shelf or follow the dive master down to the deeper shelf at approximately 80 feet deep. The underwater sea wall is fascinating for everyone, offering you a glimpse into a hidden underwater world.
The second part of your dive takes you out to either a spot on the extensive coral reef system of the Bahamas or to one of the several shipwrecks that are found here. The coral reef off the coast of Nassau is one of the most extensive, diverse and populated in the world. The wrecks you might go to on the dives include the huge 100-foot freighter at 50 foot depths, the James Bond wreck from the films at 40 feet in depths, or the Cessna from the Jaws movies.
Stuart Cove All Day Dive Highlights
4 Different Dive Sites
Explore Wrecks and Reefs
Small Dive Groups
Complimentary Hotel & Cruise ship Transportation Provided
What are the requirements to participate in this dive?
This dive requires an open water certification or higher.
Can you pick us up from our cruise ship or hotel?
Complimentary pick up is provided from all hotels and cruise ship areas.
What are water conditions like?
All dives occur on the south side of the island where waters conditions are great all year round. Visibility remains clear and consistent all year round. Water tempatures change seasonally but average between 72 - 78f.
Can I use/bring my own scuba diving equipment?
Yes. Many people feel more comfortable using equipment they are familiar with and are best suited towards their body type. While we do everything to ensure our divers are using the safest, most reliable gear we do allow our divers to use their own dive gear.
Can my non-diving partner come on the dive?
Yes. While your partner will not be able to participate in the dive itself they can come along as a bubble watcher (rider) and enjoy the trip with you.
Is There a restroom on the boat?
Yes. There is a restroom or "Marine Head" for use on the boat.
What about sharks and other sea creatures?
With all the media hype it's understandable why people offten ask this question but the truth is that unprovoked shark attacks are very, very rare and attacks on scuba divers are even more rare. Our staff, divers and dive masters are all trained in making sure your dive is safe and enjoyable.
You are responsible of making sure you are aware of and understand all restrictions pertaining to this tour before booking online or over the phone. It is your responsibility to ensure that you are medically qualified and within any limits listed below in order to participate in this activity. No refunds will be given to those who reserve a spot and can not participate due to the restrictions listed below. For full details on our cancellation policy click here or with any questions regarding your ability to participate call our staff at (800) 688-5871 with any questions.
Tour Restrictions
Must be certified
Junior divers must be 10 & up
| | | | | | | |
| --- | --- | --- | --- | --- | --- | --- |
| Mon | Tue | Wed | Thur | Fri | Sat | Sun |